Welcome to my guide on the best bars in Newcastle. As a nightlife enthusiast, I've had the pleasure of experiencing the lively Newcastle bars, and I'm here to share my top picks. In this Newcastle nightlife guide, you'll find an eclectic mix of unique atmospheres, satisfying drinks, and exciting entertainment.
From Banyan near Grey's Monument to the historical charm of Tickets near Central Station, I've uncovered the top bars in Newcastle worth visiting. So, follow my journey as I explore this vibrant city and discover hidden gems that cater to everyone's tastes and preferences. Let's begin!
Finding the Perfect Atmosphere: From Classic Pubs to Chic Lounges
Newcastle offers an eclectic mix of venues to suit any mood, from classic Newcastle pubs brimming with character to chic lounges Newcastle with contemporary vibes. Whether you prefer a cozy environment or a more modern setting, your guide to Newcastle bars has got you covered. Take a look at some of the top Newcastle nightlife spots that cater to every preference.
Zarabanda Bing Bing invites guests with live bands and a sun-drenched terrace, while The Alchemist presents theatrical drinks in swish surroundings. River Bar Washington and Point Blank Shooting offer unique entertainment options, with the former featuring cocktail trees and beer pong, and the latter boasting a fun simulation shooting range.
The quirky Four Quarters entertains with retro arcade games, and The Forth stands as a colorful establishment with street food-style offerings. For those seeking a cozy environment, The Holy Hobo and Lady Greys provide fireside warmth and traditional charm. In contrast, the trendy interiors at Pleased To Meet You and The Town Wall offer more modern settings for enjoying a wide selection of drinks.
| Bar | Atmosphere | Entertainment |
| --- | --- | --- |
| Zarabanda Bing Bing | Live bands and terrace | Live music |
| The Alchemist | Theatrical drinks in swanky surroundings | Cocktails |
| River Bar Washington | Cocktail trees and beer pong | Drinking games |
| Point Blank Shooting | Fun simulation shooting range | Interactive gaming |
| Four Quarters | Retro arcade games | Classic gaming |
| The Forth | Colorful establishment with street food-style offerings | International cuisine |
| The Holy Hobo | Fireside warmth and traditional charm | Relaxing ambiance |
| Lady Greys | Cozy atmosphere | Relaxing ambiance |
| Pleased To Meet You | Trendy interiors and a wide selection of drinks | Mixology |
| The Town Wall | Modern setting | Mixology |
In conclusion, Newcastle's nightlife scene offers a vast array of atmospheres and entertainment options. From classic Newcastle pubs to chic lounges Newcastle, these top Newcastle nightlife spots are sure to help you find the perfect atmosphere for your night out. Be sure to reference this guide to Newcastle bars the next time you're planning an unforgettable evening in this vibrant city.
Signature Sips and Creative Cocktails: Newcastle's Mixology Hotspots
Newcastle boasts a plethora of spots for the mixology aficionado, with bars offering innovative cocktail ingredients and show-stopping presentations. Bars like The Alchemist and The Muddler are popular among those looking for unique creative cocktails in Newcastle, while places like Jalou and Aveika create a perfect blend of ambiance and ingenious mixes.
Innovative Ingredients and Show-Stopping Presentations
Lola Jeans charms visitors with its elegant style and swanky beverage menu, while Alvinos stands out with its retro vibe and terrace seating. Creative presentation is a hallmark of spots like The Botanist, where imaginative cocktails are served in items like watering cans. Innovation on display at these establishments is sure to delight those on the hunt for the best in cocktail presentation in Newcastle.
Happy Hours and Cocktail Deals to Get Excited About
From Newcastle happy hours to exciting cocktail deals in Newcastle, many establishments across the city cater to a value-seeking clientele. Whether you're seeking the best bar promotions in Newcastle or looking for budget-friendly bars in Newcastle, there is no shortage of options to choose from.
River Bar Washington upholds the tradition of all-day Sunday happy hours, perfect for weekend revelers.
Pleased To Meet You entices customers with its two for £12 cocktail special during weekdays.
Howlers, ChaChaBuchi, Verano, and La Fee all reside within a Collingwood Street location offering varied entertainment and drink options.
Jam Jar appeals to budget-conscious patrons with its £5 martinis on Mondays, and generous bottomless brunches.
Revolution makes a mark with its daily happy hours, and WonderBar spices up the experience with a range of events accompanied by bottomless pizza and cocktails.
Yolo Townhouse rounds out the list with unbeatable 2 for £10 cocktail deals and vibrant outdoor spaces.
With this guide to the most sought-after mixology hotspots in Newcastle, you're sure to find the perfect venue for enjoying creative cocktails and making the most of the city's vibrant nightlife.
Elevate Your Evening: Rooftop Terraces and Views in Newcastle
Newcastle's nightlife isn't complete without experiencing the panoramic views from its rooftop terraces and bars with views that offer an elevated nightlife experience. These terrace bars in Newcastle boast stunning vistas and good vibes for the perfect night out.
The Botanist is renowned for its vantage point overlooking Grey Street and a ceiling dotted with twinkling lights, making it one of the most striking Newcastle rooftop bars. Alvinos offers a more laid-back terrace scene where guests can enjoy their drinks with beats provided by local DJs.
When the weather allows, bars like Alvino's and The Grove, which also features a lively music venue, become the perfect destinations for those looking to elevate their evening with both stunning vistas and good vibes.
Here's a list of some of the most popular terrace bars in Newcastle:
The Botanist
Alvinos
The Grove
| Bar | View | Atmosphere |
| --- | --- | --- |
| The Botanist | Grey Street | Rooftop with twinkling lights |
| Alvinos | City Skyline | Laid-back terrace with DJ beats |
| The Grove | River Tyne | Lively music venue |
So, if you're in search of a great night out with breathtaking views, make sure to check out these terrace bars in Newcastle and elevate your evening experience.
Diverse Beats and Unique Eats: Bars with a Twist
Newcastle is a city brimming with culinary invention, and its bar scene is no exception. Gastro pubs and spots with innovative bites have fused with the dynamic nightlife landscape, offering an impressive array of flavors to accompany your evening out.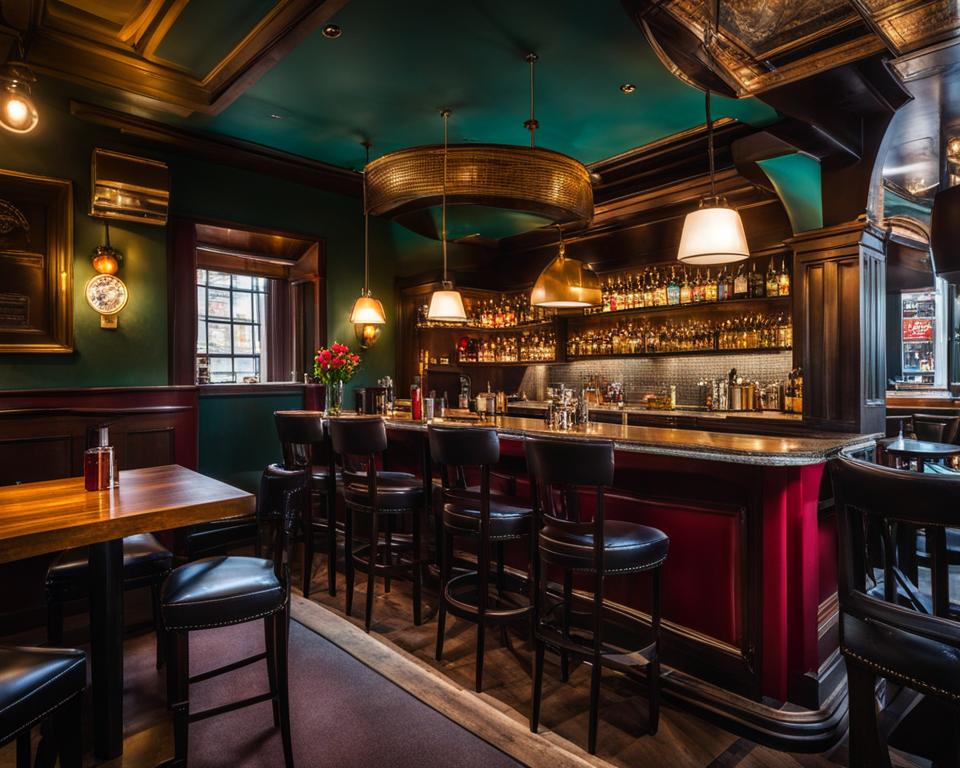 The Fusion of Flavor: Gastro Pubs and Bar Bites
For those who appreciate live music and thirst-quenching cocktails, look no further than The Grove. This venue offers terrace dining and a delectable array of drinks, perfect for unwinding with friends or colleagues.
Ernest, a café by day and bar by night, showcases a versatile approach to nightlife, presenting DJ sets, bottled and draught beers, and a laid-back atmosphere. It's a great spot to catch up with friends or enjoy a fun, casual night out.
Reinventing classic pub grub, St Vincent offers an enticing European-inspired menu, boasting hand-crafted charcuterie and cheeses that pair excellently with their extensive wine list.
Café Mercy strikes the perfect balance between a relaxed and luxurious ambiance. Their signature cocktails, such as the Santorini Spritz, make it a go-to destination for those looking to experience the sophisticated side of the culinary nightlife in Newcastle.
Delight in the relaxed ambiance and DJ sets at Ernest
Indulge in European-inspired dishes at St Vincent
Sip a Santorini Spritz under Café Mercy's elegant atmosphere
"The bars of Newcastle merge culinary exploration with a dynamic nightlife."
| Venue | What to Expect | Recommended Dish/Beverage |
| --- | --- | --- |
| The Grove | Live music, terrace dining, and innovative cocktails | Asian-inspired bar bites and an Elderflower Martini |
| Ernest | Chilled atmosphere, DJ sets, and a mix of bottled and draught beers | A refreshing Belgian beer paired with their house-made pizza |
| St Vincent | European-inspired menu, hand-crafted charcuterie, and wines | A glass of fine red wine enjoyed with their cheese platter |
| Café Mercy | Luxurious yet laid-back vibe, unique cocktails | A Santorini Spritz complemented by Mediterranean-inspired small plates |
Whether you're craving a laid-back night on the town or hoping to tantalize your taste buds with unique culinary creations, Newcastle's gastro pubs and bar bites are sure to deliver. Discover an unforgettable experience as you uncover these extraordinary venues throughout the city.
Conclusion: Crafting Your Unforgettable Night Out in Newcastle
Newcastle's nightlife is diverse and full of character, offering everything from chic lounges and historic pubs to roof terraces and gastronomic havens. With such a wealth of unforgettable nightlife experiences in Newcastle, it's easy to plan a night out that caters to all preferences, ensuring each night out is as memorable as the city itself.
Venues like The Hooch, Colonel Porter's, and The Botanist provide unique atmospheres for cocktail lovers, while those in search of thrills can visit places like The Alchemist and River Bar Washington. For a more relaxed evening, you may opt for Pleased To Meet You or an energized night at Howlers. Newcastle truly has something for everyone, and it's easy to see why it is considered one of the best nightlife attractions in the United Kingdom.
Combining detailed insights from the discussed bars with careful planning can lead to an unforgettable night out in one of the UK's most dynamic cities for nightlife. Whether you're a local or a visitor, exploring Newcastle's nightlife scene is an experience like no other, and one that you're sure to remember for years to come.
FAQ
What are some of the best bars in Newcastle?
Some of the best bars in Newcastle include Banyan, Tickets, The Hooch, 97 & Social, Colonel Porter's, Pleased To Meet You, and The Botanist. Each offers a unique atmosphere, signature cocktails, and various entertainment options, ensuring a memorable night out for all tastes.
Where can I find classic pubs and chic lounges in Newcastle?
Classic Newcastle pubs include The Holy Hobo, Lady Greys, and The Forth. Chic lounges can be found at Pleased To Meet You, The Town Wall, Zarabanda Bing Bing, and The Alchemist. These venues offer diverse atmospheres ranging from traditional pub charm to modern and upscale vibes.
Which bars offer creative cocktails and mixology experiences in Newcastle?
Bars known for their creative cocktails and mixology experiences include The Alchemist, The Muddler, Jalou, Aveika, and Lola Jeans. These venues offer innovative cocktail ingredients, show-stopping presentations, and sometimes unique twists on classic drinks.
Are there any bars in Newcastle with happy hours or cocktail deals?
Yes, several bars in Newcastle offer happy hours and cocktail deals. Some popular options include River Bar Washington, Pleased To Meet You, Jam Jar, Revolution, and WonderBar. These bars provide various discounts and promotions to cater to budget-conscious patrons without sacrificing quality or atmosphere.
Where can I find bars with rooftop terraces and views in Newcastle?
Bars with rooftop terraces and views in Newcastle include The Botanist, Alvinos, and The Grove. These venues allow guests to elevate their evening with stunning vistas and enjoy the lively ambiance from an elevated perspective.
Which bars in Newcastle offer unique eats and gastropub experiences?
Gastro pubs in Newcastle, like The Grove and St Vincent, offer a fusion of flavor with their unique bar eats and culinary experiences. Café Mercy's laid-back yet luxurious vibe pairs well with signature cocktails and Mediterranean-inspired cuisine. These venues provide a diverse range of gastronomic options alongside their beverage selections.
Source Links