In a heartwarming display of compassion and solidarity, the Okapi Children Cancer Foundation embarked on a meaningful mission to commemorate Children's Day. Their visit to the University of Abuja Teaching Hospital and the National Hospital brought smiles and precious gifts to the courageous children battling cancer. Guided by the Head of Management, the foundation's dedicated volunteers embarked on a journey that began at the Gwagwalada Teaching Hospital and continued at the National Hospital in Abuja.
A Purposeful Visit Filled with Support and Encouragement
The primary aim of the Okapi Children Cancer Foundation's visit was to extend unwavering support, encouragement, and cheer to young cancer patients, infusing their lives with hope and happiness on this special day dedicated to children. The compassionate team, comprising individuals from the foundation, were warmly received by the Pediatric Oncologist at the hospital, who expressed heartfelt gratitude for their presence and thoughtful gestures.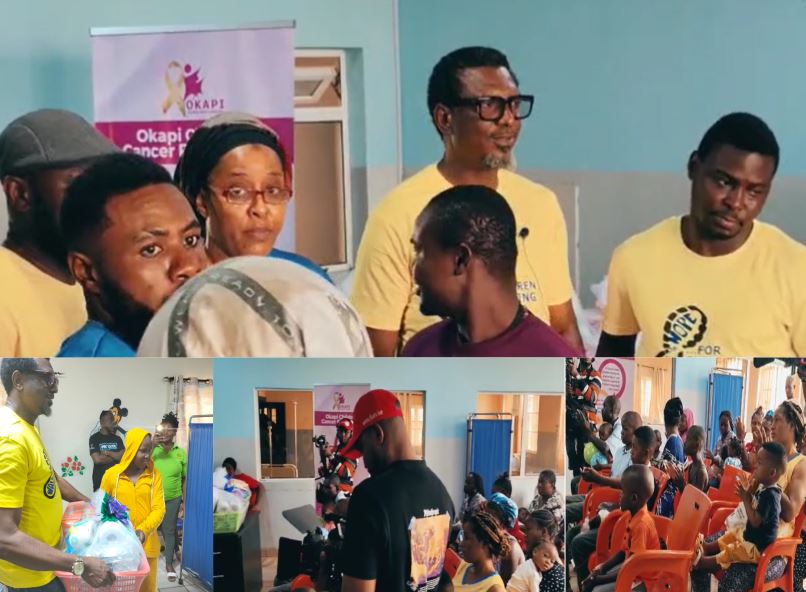 Gifts of Love and Solidarity Brighten the Day
Throughout the day, the foundation's team dedicated themselves to distributing a range of thoughtful gifts, including toys, books, and art supplies, to the children undergoing cancer treatment. These gifts held deep meaning, serving as tokens of love, solidarity, and support. By providing a sense of normalcy and joy amidst their challenging battles, the foundation aimed to uplift the spirits of these resilient young fighters. The volunteers wholeheartedly engaged with the children, lending an ear to their stories and sharing moments of laughter and encouragement.
A Commitment to Making a Difference
The Okapi Children Cancer Foundation has remained steadfast in their tireless efforts to support and assist children fighting cancer in Nigeria. Their hospital visits serve as a testament to their unwavering commitment to improving the lives of these young warriors and their families. By spreading smiles, love, and hope, the foundation seeks to inspire resilience and strength in these children, reminding them that they are not alone in their fight against cancer.
Leaving a Lasting Impact
As the day drew to a close, the Okapi Children Cancer Foundation departed from the hospitals with a profound sense of fulfillment, knowing that they had made a positive impact on the lives of these brave children. Their visit serves as a poignant reminder of the immense importance of compassion, empathy, and unwavering support in helping young cancer patients navigate their challenging journeys.
A Testimony to Love and Human Connection
The foundation's unwavering dedication to uplifting the spirits of children fighting cancer on Children's Day serves as a powerful reminder that, even amidst the most difficult circumstances, the power of love and human connection can make a significant difference. Their visit stands as a shining example of the profound impact that acts of kindness and support can have on the lives of those facing adversity.