Are you tired of the same old routine and looking for a new adventure? Have you ever dreamed of living in a foreign country, immersing yourself in a new culture, and experiencing life completely differently? Well, what if I told you that some countries out there will pay you to do just that?
That's right, you read it correctly. There are actually countries that will pay you to move there, and we're not talking about just a small stipend. Some countries offer significant financial incentives to attract people to their shores.
In this post, I will introduce you to 10 countries that will pay you to move there. From idyllic tropical islands to bustling metropolitan cities, there's something for everyone on this list. I'll cover everything from the application process to the benefits of living in each country, so you'll have all the information you need to make an informed decision.
So, if you're ready to embark on a new adventure and get paid for it, keep reading. These countries are waiting for you, and the opportunities are endless. Let's dive in!
Countries that will pay you to move there
#1 Antikythera (Greece)
Antikythera, a Greek island with less than 50 residents, will pay you to move there. You'll get a house and a piece of land for the first three years. You also get EUR500 (around $590). Although there are few shops on the island, it is perfect for those who seek solitude and self-sufficiency. Living in a small town is pretty good when you're on an island.
Moving to Antikythera (Greece)
Greece is the ideal place to live if you are looking for a country rich in history and culture. You'll find peace and tranquility on the island of Antikythera as well as beautiful beaches. It is a rural paradise.
One of the most fascinating aspects of Antikythera is its rich history. The island is home to the Antikythera Mechanism, an ancient Greek device that is considered to be the world's first analog computer. The mechanism was discovered in a shipwreck off the coast of Antikythera in 1901 and is now housed in the National Archaeological Museum of Athens. Living on the island, you'll be surrounded by history and ancient ruins, making it an ideal location for history buffs.
#2 Candela, Italy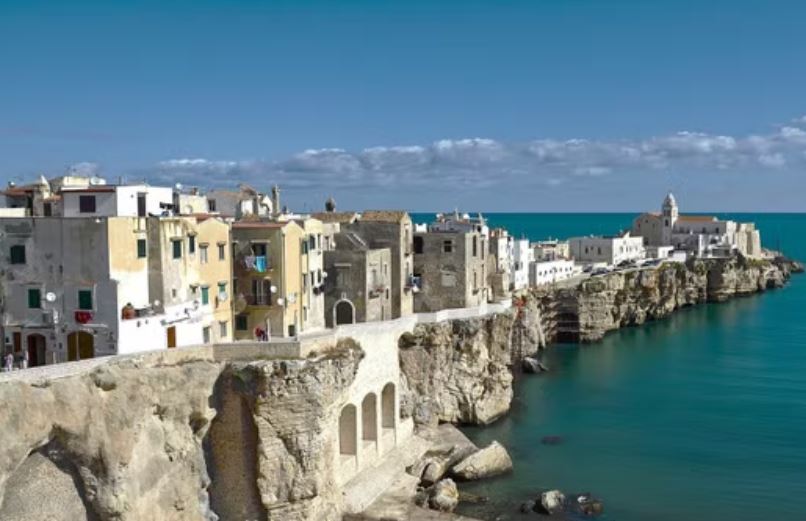 Candela is a place where the busy streets of urban Italy are open. The mayor offers EUR800 (around 945) and EUR2,000 (around 2,350) to singles and families who want to move there. You must be able to live there full-time, rent a home, and earn at least EUR7500 per year.
Moving to Candela in Italy
Candela is just two hours away from Naples and one hour from the beaches. This means you can have everything you need close to your new home. You'll be delighted if you love Italian food! Once you have settled in, you can apply for a one-year work visa or start a business. Then you can begin to see your new life in Italy.
#3 Albinen, Switzerland
Albinen's population is in decline, so they will pay $25,000 for you to move there. The grant is available to new residents and $10,000 for their children. You must be younger than 45 years old and have lived in the same place for at least ten consecutive years.
Moving to Albinen
You're only a short drive from Zurich and Geneva if the beauty of the surroundings keeps your heart strong. It's the perfect place to live with a stable economy and easy access to the Swiss Alps.
One of the most fascinating aspects of Albinen, Switzerland is its commitment to sustainable living. Located in the canton of Valais, this picturesque village is renowned for its efforts to reduce its carbon footprint and preserve the natural beauty of the surrounding area.
Albinen has implemented a range of environmentally friendly initiatives, including the construction of energy-efficient buildings, the use of renewable energy sources, and the encouragement of eco-tourism. The village has also implemented a waste management system that separates organic waste from recyclables, ensuring that as much waste as possible is diverted from landfills.
In addition to its focus on sustainability, Albinen offers a high quality of life for its residents. The village is situated in a stunning mountainous region, with breathtaking views of the surrounding peaks. The air is clean and fresh, and the pace of life is relaxed and unhurried.
Despite its small size, Albinen has a strong community spirit. The locals are friendly and welcoming, and there are plenty of opportunities to get involved in village life, whether it's through volunteering, joining a local club, or attending one of the many cultural events that take place throughout the year.
#4 Denmark
Denmark is a country that loves entrepreneurs and encourages startups to move there. Although they won't pay you to move to Denmark, you can access the country's excellent education, health and welfare system by relocating. Even if your goal is to become an investor, moving from Denmark can be a good idea because of the financial incentives.
Moving to Denmark
Denmark is a country that is predominantly coastal, with beautiful beaches and flat terrain. Bicycles are a popular mode of transport that is both eco-friendly and healthy. It is also one of the happiest countries in the world. So it's worth looking into!
#5 Ireland
Enterprise Ireland is an international program that attracts Expats from all over the world. Submit an application if you believe your startup is worth it. If your application is approved, you can move to Ireland and receive thousands of Euros of funding. You also have access to the European Union, one of the world's most important markets.
Moving to Ireland
The beauty of the Irish countryside is breathtaking, but the people are just as spectacular. You'll love Ireland as a new resident. It has a rich and diverse culture that you will enjoy. Pubs are a great place to meet people, so you will soon get to know them!
#6 Korea, Thailand, and Vietnam
These countries offer similar benefits to European and United States residents. They'll offer you an English-speaking job in exchange for your move to Korea, Thailand or Vietnam. It's easy and quick. Once you have paid the moving expenses, you can be on your way to Asia faster than you might think.
Moving to Korea, Thailand, or Vietnam
Every country has a different history and culture than the western world. They also have delicious food and low living costs. Many people enjoy a high quality of life in these countries, which is complemented by stable employment.
#7 Mauritius
Are you passionate about a business idea? Startup businesses can move to Mauritius, which is an island east of Madagascar. It offers 20,000 Mauritian Rupees. You will need to present your unique, profitable business idea to a committee to determine if you are eligible.
Moving to Mauritius
Although it is not an island paradise, Mauritius still has a lot to offer. It boasts beautiful weather, a vibrant economy, top-quality schools and free healthcare for residents. It is also a multicultural hub with a lot of diversity.
#8 Ponga Villages of Spain
You can earn EUR3,000 (around 3,550) if you are part of a young couple who wants to have children. All you need to do is move to Ponga, Spain, and stay there for five years. This is a small area with less than 1,000 residents and has seen its population decline over time. You will also be able to receive EUR3,000 additional for each of your children regardless of whether they were born in Ponga or moved with you.
Moving to The Ponga Villages in Spain
Spain is not only a great place to move, but Spain also pays you to do so. The Asturias region is a beautiful place with welcoming communities and great job opportunities. The idea of "siestas," which give you two hours of rest in the middle of your day, is also something we love!
#9 Saskatchewan, Canada
3
Saskatchewan's Graduate Retention Program offers $20,000 CAD (around 15,000 USD) in tax returns. This program aims to retain college graduates. Canada will allow you to reside in Canada for a period of 10 years while you file taxes and live there. Only one catch: You must have graduated from an approved post-secondary institution.
Moving to Saskatchewan, Canada
You can enjoy the best of both the country and the city in Saskatchewan. Canada is your place! There are many national parks and historic sites that allow you to enjoy the best of the outdoors. There are many job opportunities available, especially for college students.
#10 Sicily, Italy
Sambuca di Sicilia, a small Sicilian town of approximately 6,000 inhabitants, has been experiencing shrinkage as more people move to bigger cities. The town is offering homes for as low as EUR 1. You will need to refurbish the home in three years. This will likely cost you around EUR15,000 (around $17800) and require a EUR5,000 security deposit (around $5900). The security deposit will be returned once the renovations have been completed.
Moving to Sicily, Italy
Many people dream of living in Sicily, and you can make it a reality. Sicily offers food that is delicious and healthy. You'll also have the chance to learn one of the most romantic languages in the world.
Final words on countries that will pay you to move there
The idea of getting paid to move to a new country may seem too good to be true, but the reality is that it's not only possible but also increasingly common. As we've explored in this blog post, many countries are actively seeking new residents, and they're willing to offer generous incentives to attract them.
Of course, moving to a new country is not a decision that should be taken lightly, even if you're being paid to do it. There are many factors to consider, from the cultural differences to language barriers to the logistics of relocating your life. However, if you crave adventure and are open to new experiences, then the idea of getting paid to do it might be just the motivation you need to take the leap.
Ultimately, the decision to move to a new country is a personal one, and it will depend on your individual circumstances and preferences. But if you're looking for a change of scenery and a new opportunity to explore the world, then the countries on this list are definitely worth considering.
So, why not take a chance and explore the world? Whether you're looking for a tropical paradise, a vibrant city, or a quaint village, there's a country out there that's waiting for you. And who knows? It might just be the best decision you ever make.
Read Next:
Advice on enhancing the quality of your life